​SCENAR Therapy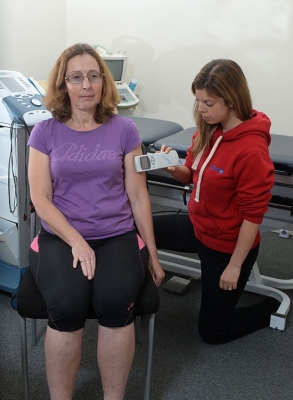 Scenar Therapy
SCENAR therapy reactivates your body's self-regulatory mechanism, helping your body heal itself. Great for headaches, neck pain, lower back pain, joint pain and sinusitis. Also used extensively for treatment of conditions with no known cause once serious pathology has been ruled out, such as irritable bowel syndrome and other problems related to the gut as well as other conditions.
Health Point Physiotherapy staff are real experts in SCENAR therapy. Our physiotherapists have been trained in this method in Russia, where it was originally developed. We have now been using SCENAR therapy successfully for over five years and have patients coming from various Melbourne suburbs to make sure they receive professional help from the experts they can trust.
The SCENAR itself is a small hand held device with multiple settings adjusted specifically for each person. Using electricity and its' inbuilt technology it is able to react to each individual and uses electrical feedback from the treatment area to focus on the exact point for maximum results.
This treatment is non-invasive and widely used in Europe. As an effective form of treatment word is finally starting to spread and its' popularity in Australia is growing fast. Effects felt generally after just a few sessions.
We are STAA Members and have been active participants at the 4th Australasian SCENAR Conference, presenting a Case Study on the use of SCENAR therapy for treatment of functional dyspepsia.
Benefits of this method:
No negative side effects
Very few contraindications
No medications required
Extremely wide range of indications
See our article SCENAR Therapy (published in Mouth of Mums)

SCENAR blanket
Different to the SCENAR machine as there is no electricity involved in this treatment. The blanket has a specialised membrane that reflects external energy and captures the body's own healing energy. This energy is redistributed around the body whilst you are calmly relaxing in the blanket, allowing both body and mind to begin the recovery process. Often used in conjunction with SCENAR therapy or other treatments.
Indications:
improving sleep
enhancing relaxation and helping our body fight with stress
boosting the immune system
anti-ageing
increasing energy and vitality
See our SCENAR Blanket article

Feedback
Treatment success for sore neck
As a full-time nurse in the Aged care facility and a mum to a toddler, I cannot afford to have a stiff and painful neck. The problems with my neck started a few years ago. I have tried heat packs, TENS machine, massages and usual physiotherapy – all of the therapies would provide only some relieve and just for a short time.
The worst happened after the birth of my son two years ago: I have returned from the hospital with the stiff neck, unable to move or lay down, with constant pain accelerated on movement. Exhausted and without sleep (I could only manage by sitting on the couch trying not to move) I have tried all the usual therapies for four days with no success, when my mum suggested to visit Margarita. At first I said no as I could not drive after Caesarean and was afraid to leave my newborn son. However the pain was so bad that I decided to try.
Margarita was so nice to see me on her day off. I was crying from the pain all the way to her clinic feeling every bump on the road. I could not believe that after a 30 minute SCENAR therapy session I felt better – the pain did not go away completely but the tension was almost gone and the pain level decreased significantly. On return home I have dropped into bed and slept for 14 hours - dead to the entire world (God knows how my husband managed with our baby and how he fed him!!!). 3 sessions later I felt like a new person.
Being a busy but lazy person I am no so good at doing exercises even though Margarita keeps suggesting her classes to me, so my neck problems keep coming back – but I know what to do now – call Health Point and organise appointment! She also treated successfully skin problems that I had. I haven't heard about any other physiotherapists that use same technology as she. I keep recommending Margarita to anybody who needs quick and effective treatment. - Anna Sheran