Incontinence and Women's Health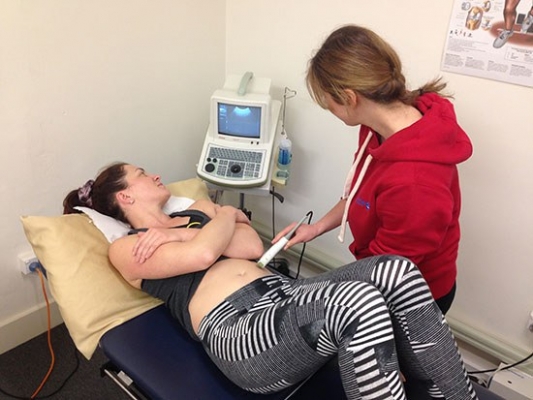 Real Time Ultrasound
Health Point Physiotherapy offers a wide array of treatments for a range of different health issues that may trouble women at some point in their lives.

Incontinence
One of the most debilitating conditions that often affects women, as well as men, is incontinence. This includes stress and urge urinary incontinence as well as fecal incontinence. With the right treatment, however, it can be successfully managed and often completely resolved.
What does Health Point Physiotherapy treatment involve?

Thorough pelvic floor assessment performed on your first session enables us to correctly identify the cause of your incontinence
Analysis of contributing factors such as the physical exercise you are doing and your diet to provide recommendations on how to successfully manage and treat your particular type of incontinence
Regular use of Real Time Ultrasound which means that you learn how to correctly engage both your core muscles and pelvic floor muscles helping to manage and treat incontinence
Specific core and pelvic floor exercise program helping to improve both the strength and control of these muscles in order to get your incontinence under control
Progression of exercises to make them functional so that your pelvic floor muscles will engage automatically during your everyday activities
Electrotherapy is sometimes used to assist when exercises alone are not enough (refer to our article Electrotherapy for Treatment of Urinary Incontinence)
FREE home exercise program to help attain results faster
See our blog posts on the following topics:
Prevention and Management of Incontinence (published in the Great Health Guide magazine)
Pelvic Floor Exercises for Stress and Urge Incontinence
Electrotherapy for Treatment of Urinary Incontinence

Osteoporosis
As women get older, particularly after menopause, their bones can lose essential minerals such as calcium, making them more brittle and more likely to fracture. One of the best types of prevention and management of osteoporosis is exercise.
At Health Point Physiotherapy we are constantly helping women, as they get older, maintain their physical fitness through Clinical Pilates. While the exercises are always challenging our physiotherapists make sure that they are safe and that you are exercising at the correct intensity for you. Click here to find out more about our Clinical Pilates sessions.
Besides Clinical Pilates we also offer advise on other types of exercises which will be beneficial for you as well as provide you with a specific home exercise program.

Pelvic Inflammatory Disease
Pelvic inflammatory disease (PID) is a common condition affecting women of different ages. It occurs as a results of an infection such as gonorrhoea or chlamydia of the female reproductive tract. Apart from causing pain and discomfort if left untreated it could become chronic and lead to severe complications including infertility.
At our practice we use electrotherapy techniques such as magnetotherapy or interferential current which were shown in clinical studies to provide effective treatment of the disease. The results are reduced inflammation, fast relief of pain, tenderness and other PID symptoms. The course of electrotherapy is followed by Clinical Pilates or specific exercise sessions. These treatments improve the blood circulation in the pelvis helping to further reduce the inflammation, maintain the therapeutic effect longer and prevent recurrences.
Balneotherapy is another very effective approach to treat PID, especially if it becomes chronic. Use of mineral spas for PID is implemented in many health resorts in Europe leading to improving the conditions. We use balneotherapy where indicated for treating PID patients in our practice.