Clinical Pilates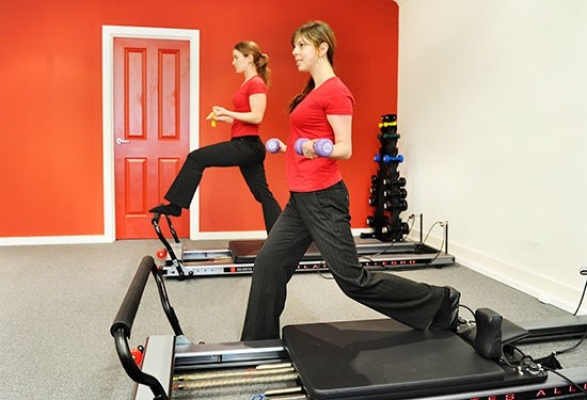 Clinical Pilates
Reduce your aches and pains, improve your posture and core strength, your body shape, fitness levels and sports performance. You will start to see results in just a few weeks.
Our Program: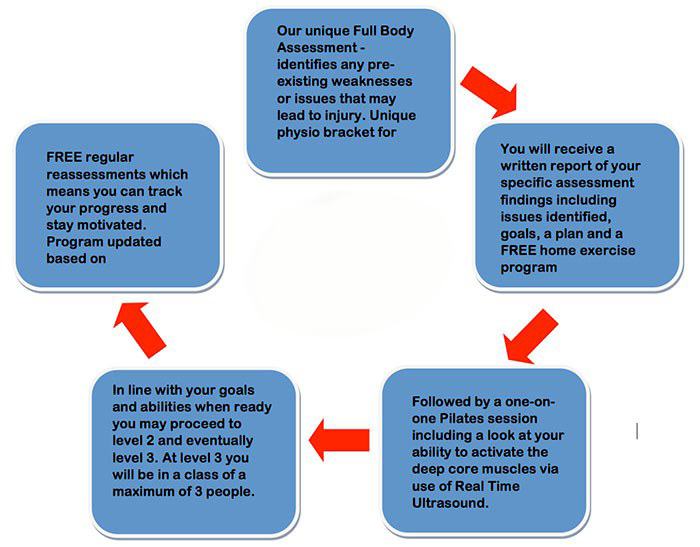 Clinical Pilates — The Health Point Difference
Unlike mainstream Pilates, Clinical Pilates at Health Point Physiotherapy is conducted by qualified Physiotherapists and Accredited Exercise Physiologists with a sound knowledge of anatomy, physiology, pathophysiology and biomechanics.
Our expert Physiotherapists and Exercise Physiologists will deliver far better, focused results than regular Pilates classes. Our personalised Clinical Pilates programs are tailored to the specific needs of each individual taking into account their areas of strengths and weaknesses and their goals.
Our main aim in your Pilates program is to develop your core stability and posture which helps to restore and maintain your musculoskeletal health. The first step is our unique Full Body Assessment which helps highlight any current or future musculoskeletal issues. This allows us to devise a plan to help you achieve and maintain your health goals. Our unique physio bracket, designed by us, results in a 100% accurate muscle strength measurement.
We use Real Time Ultrasound to assess your core muscles and make sure you understand how to activate them correctly.
Our Clinical Pilates programs can help with a range of conditions including, neck and joint pain, scoliosis, fibromyalgia, arthritis, incontinence, cardiovascular conditions and many others.
See our articles and blog posts on the following topics:
Clinical Pilates in Physiotherapy
Clinical Pilates for Scoliosis

Feedback
Treatment Success For Pain and Poor Strength
"By the time I started Pilates, I'd had a lower back pain and weak knees. After just 3 months of exercises I feel myself much fitter and stronger: my back pain has gone, my knees are better and my body is better balanced, so I can do my favorite exercises. I only could achieve all that because of the wonderful and knowing teachers. Thank You." – Zosya Shvartsman

Treatment Success For Back Pain
"I work in the building industry, where there is a lot of heavy lifting, a lot of which is done incorrectly. After hurting my back several times at work, I decided to try Clinical Pilates at HealthPoint Physiotherapy. After several months of working on my core stability muscles which supported and strengthened my back, and learning the correct bending and lifting techniques, my core muscles and back felt much stronger. After 6 months of attending clinical pilates several times a week, I have not had serious back pain/incident, even when I have a hard day's work of lifting and bending. I am very gratefully to Margarita for teaching me correct lifting/bending techniques and for strengthening my core muscles to protect my back. I will attending clinical pilates to maintain and enhance the good core stability I have achieved as it is allowing me to work without taking time off for back pain." – Anthony Massarin

Treatment Success For Fibromyalgia
"In 2005 I was diagnosed with Fibromyalgia. I had high blood pressure and high sugar levels. I felt severe pain in all parts of my body. My GP recommended Margarita Gurevich to me. Margarita is a hard working person, conscientious, intellectual with her new way, ideas and methods to help people.
Margarita assessed me for more than 1 hour, testing all the muscles of my body and found the weakest part. She chose Clinical Pilates for me. We started with the easiest exercises then slowly going to harder ones, step by step in individual classes and when I became stronger in a small group. After 7 weeks I had a reassessment. The result was amazing. I could sit in front of my computer, walk and control my posture. My balance became better, even my blood pressure was normal without medication. I came back to life. With greatest thanks. Good luck in your job" – Sofia Sandomirskaya - 13.07.2010