Pilates for Expectant and New Mums
Pilates for Expectant and New Moms
Find out how physiotherapy can help with mastitis and how Clinical Pilates can help you stay active and strong throughout pregnancy, result in an easier labour and help you get back into shape after birth. Not only is it a form of exercise that keeps you active at this time (which can be difficult), but it is ideal to help your body cope with all the changes you go through, up until and after child birth.

Pilates for Expectant and New Mums — The Health Point Difference
Our specialized Pilates classes help your body prepare and deal with the numerous changes that pregnancy brings. These changes affect your spine and joints during pregnancy and can last for up to 6 months after child birth. Doing Clinical Pilates while pregnant often also results in a significantly easier labour.
With all classes run by a physiotherapist there's one less excuse not to exercise before, during and after pregnancy. Click here to find out more about our Clinical Pilates sessions.
See our blog posts on the following topics:
Clinical Pilates During Pregnancy
Improving Your Body Image After Pregnancy

Mastisis
Besides pre and post-natal Pilates classes we are one of the few clinics to offer therapeutic ultrasound as an effective and drug free treatment for mastitis which can be quite painful and debilitating for many women.
Therapeutic ultrasound works by unblocking the milk ducts. In the majority of cases antibiotics are not required. Research has proven that is a safe and extremely effective treatment for mastitis. At Health Point Physiotherapy we have observed a marked improvement, often complete resolution, after only 1-3 sessions.
See our Mastitis article published in The Love Destination

Incontinence
We offer physiotherapy consultations to help with incontinence issues and have Real Time Ultrasound on site to aid with assessment of these problems. We can also help with the following:
Back and pelvic pain
Coccyx pain
Carpal tunnel syndrome
Wound pain post Caesarean
Upper back and neck pain during breastfeeding
See our blog posts on the following topics:
Prevention and Management of Incontinence (published in the Great Health Guide magazine)
Pelvic Floor Exercises for Stress and Urge Incontinence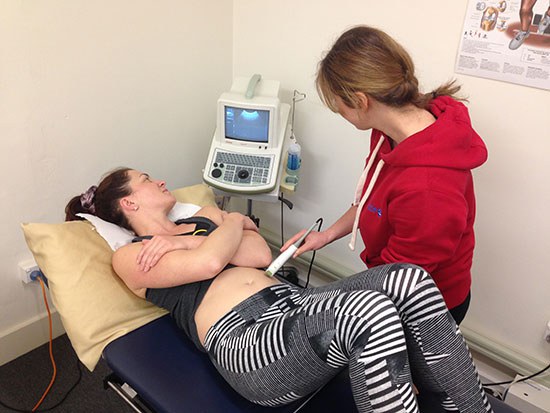 Health for Mothers
Changes During Pregnancy and After Child Birth
During your pregnancy, many changes occur in your body in preparation for child birth. These changes affect your musculoskeletal system during pregnancy and also for up to 6 months after child birth.
Hormonal and Muscular Changes
During pregnancy, hormones are released into your body which make your muscles and ligaments more lax (in preparation for child birth). This makes your spine and joints more vulnerable to injury or aches and pains - especially low back pain or pelvic joint pain. As well as this, you are carrying the added weight of your baby.
How Can Clinical Pilates Help With These Changes During Pregnancy?
Pilates is all about improving strength and activation of muscles that support your spine and joints. During pregnancy and after child birth, your spine and joints are vulnerable to injury because the muscles and ligaments that support them have been weakened, stretched and more lax.
It is important to be careful of the type of exercise you do while pregnant and the type of exercise and when to start exercise after child birth. At Health Point Physiotherapy, our Pilates (or Preggilates) is conducted by qualified Physiotherapists who are specifically trained for this. As well as this, we conduct a comprehensive full body assessment prior to any exercise so that a Pilates program can be specifically designed to benefit you and your individual needs. Each "Preggilates" session will be closely supervised to ensure you are doing the exercises correctly and so you can get the most out of them.
Strength
Pilates helps with improving the strength and activation of your lower abdominals and pelvic floor muscles (the 'core' muscles). Your pelvic floor muscles carry the weight of your baby for 9 months which stretches and weakens them, whilst your abdominal muscles stretch over your growing uterus. Your pelvic floor is also even more stretched and sometimes torn during child birth.
Activating and strengthening your pelvic floor, during and after pregnancy, helps prevent complications such as incontinence, after birth and later on.
Alleviating Risk of Injury
Both your abdominals and your pelvic floor are also major supports of your spine, which are important as ever when carrying a baby – during and after pregnancy! As a new mum different activities - such as lifting, bending down to play, breast feeding, pushing prams – can be strenuous to your body after birth, so it is important to be strong and have well supported joints to undertake these activities without aches and pains.
Physiotherapy can also provide treatment for the following pre and post natal conditions:

• Back and pelvic pain
• Coccyx pain
• Carpal tunnel syndrome
• Wound pain post Caesarean
• Upper back and neck pain during breastfeeding
• Mastitis
Healthy Weight
It is natural and healthy for women to put on some weight during pregnancy, to help the growth of your baby. Pilates is a form of exercise that pregnant women and new mums can undertake to help maintain a healthy weight or for weight loss post birth. Strengthening and improving muscle tone helps boost your metabolism which helps with healthy weight control. Improving your metabolism also helps to burn excess fat in the body. Meanwhile, increasing the tone of your muscles also helps you look and feel better.
Sporty Mums
Pilates will help you safely return to any sports or activities undertaken prenatally. It is important to take care when returning back to sports as your joints are not as supported and you are more prone to injury such as ankle sprains, and back and pelvic injuries.





Feedback
Treatment Success For Back pain
"I decided to do clinical pilates with Margarita during the course of my second pregnancy. I had suffered severe back pain during my first pregnancy, and was determined to look after my back the second time around. And I am so happy that I did! I attended pilates twice per week up until 36 weeks and I am confident to say because of this my back remained strong and healthy and I did not experience the pain that I felt first time around. I noticed my posture improve and I had techniques to follow to ensure that my back did not suffer. I cant thank Margarita enough for her support and knowledge during this time. I continue to attend pilates now, and my back continues to thrive. Thanks so much Margarita...." – Yulia Srugo 4/9/11

Treatment Success For Mastitis
"To think that there are so many breastfeeding mothers in Australia suffering unnecessarily with mastitis and blocked milk ducts when a simple session with a physiotherapist can resolve the problem! My stubborn blockage was cleared in 6 minutes of treatment with Margarita! Whilst I have heard that it is common in some other developed countries, using therapeutic ultrasound to treat mastitis is still mostly unheard of in Australia. This is unfortunate.
I was suffering from mastitis due to a very painful blocked milk duct lasting for over a week and eventually covering a quarter of my left breast. It was stubbornly refusing to clear, despite all the usual methods (massage, heat, antibiotics etc). Desperate, someone mentioned therapeutic ultrasound to me and I did a search on the internet. They warned me it would be hard to find practitioners who are aware of its use for treating mastitis, let alone any who were actually already utilising it for this purpose, and sure enough, my GP did not know, and Health Point Physiotherapy was one of the few places in Australia that I could find on the internet whose websites even mentioned it! Thank God they were in Melbourne.
I went to see Margarita and 6 minutes of treatment later, the blockage had cleared! What relief! Margarita provided friendly and professional service. I would highly recommend her and therapeutic ultrasound to anyone". – Melanie, Melbourne, Australia.