Schools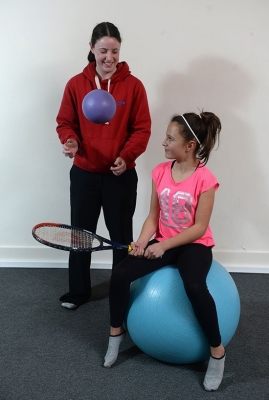 Clinical Pilates at School
Health Point Physiotherapy has developed a specific screening program for school aged children. Our physiotherapists/accredited exercise physiologists will be happy to come to your school to do this in short half-hour blocks.
We strongly believe that prevention is the key. What better way to help people prevent injuries than by educating them before the aches and pains begin?
Most of us were told at one point or another when growing up that we shouldn't slouch and we should sit up tall. It is highly likely that the majority of us disregarded our grandparents or parents sound advice and years later have ended up with either intermittent or constant pain as a result.
We believe in educating young people to make their own decisions by explaining why we recommend some postures and not others.
Through fun, educational and interactive seminars we teach young students how they can start looking after themselves to prevent future musculoskeletal issues (including back and neck pain).
Reaching young students before or during their senior high school years is the best time for them to learn the information we have to share. For most, their workload has increased, they are spending more time than ever studying and may be contemplating further studies after school. What better way to prepare them for the future?
We come to you, set up is quick and student participation is a must. We have had some great feedback from both students and teachers and urge you to get in contact with us if this is something you would like to see at your school. Our physiotherapists/exercise physiologists can also provide complimentary ergonomic recommendations for teachers.
Please contact us for more information.