Articles
SCENAR Blanket – Relax, Recover and Reenergize!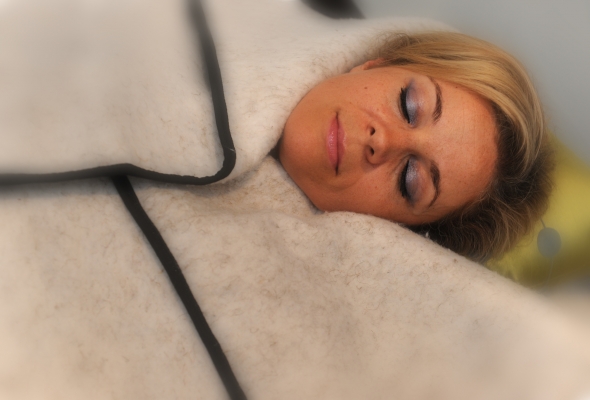 SCENAR Blanket
by Margarita Gurevich
Senior Physiotherapist
Our busy lifestyles are often associated with stress, improper diet, lack of exercise, insufficient sleep and other negative psychological and environmental factors. This could lead to feelings of low energy, tiredness, depression, and other health and wellbeing problems. This is why we need to utilise reliable means to combat it. SCENAR blanket is a perfect way to achieve that goal.
What is the SCENAR blanket?
The SCENAR blanket has been developed by leading Russian medical specialists. It is based on sound understanding of the principles of bioenergetics and knowledge of the self-regulatory mechanisms of the body.
The main role is to help in the treatment and prevention of a wide range of pathological conditions. It assists the body and mind to relax, recover and reenergize. It has been proven to be successful in the regulation of sleep disorders, resisting stress, improving the reproductive function, reducing muscle tension as well as aiding in the reduction of the dose of some prescribed medications and subsequently acting as maintenance therapy without the use of medications. The blanket also has a very good anti-ageing effect. The SCENAR blanket can be used by itself or as an adjunct to other forms of therapy.
How does the SCENAR blanket work?
To describe it simply the SCENAR blanket works essentially by reflecting away external energies that may be negatively influencing the body and also by reflecting back to itself the body's own energies.
The effects of the SCENAR blanket are achieved through the reflection of the patient's own infrared and ultra-high frequency emissions back onto their body. A special membrane composed of several layers inside the blanket is designed to prevent the body's electromagnetic emissions and infrared radiation from dissipating outwards. The body is thus assisted to rebalance its own electrical charge and energy and thus heal itself. The reflected infrared radiation gives a very relaxing and soothing warm feeling, which over time can reenergize the body and relieve pain.
How can the SCENAR blanket help you?
The healing blanket can be effectively used as monotherapy or in combination with other therapies for the wide range of diseases. It also helps with:
immune system development
anti-ageing
sleep improvement
treating reproduction disorders
increasing the resistance to stress
reduction of the muscular spasms and pain
prolonging the action of medicines, followed by reduction in doses of drugs and supporting therapy without drugs.
Are there any contraindications?
The main contraindications are:
acute infectious diseases
diseases and feverish conditions with unclear diagnosis
Active form of tuberculosis
Acute heart attack
Cardiac and pulmonary insufficiency