Hydrotherapy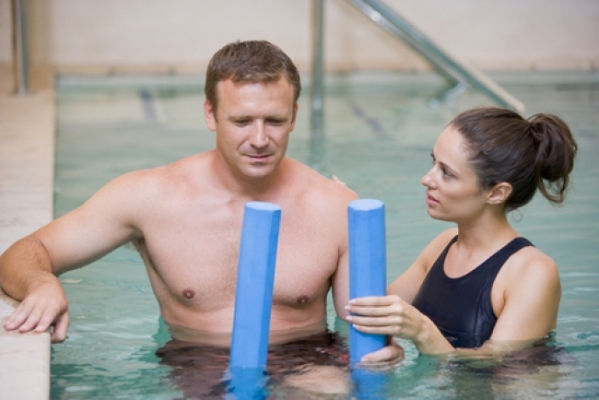 Hydrotherapy
Hydrotherapy (water exercises) allows you to exercise without putting too much strain on your spine and joints, enabling you to do more than you could do on land. Exercises are performed in a heated pool.
A specially designed program just for you created and conducted by our experienced physiotherapists. Hydrotherapy involves completing different exercises that can help to strengthen and stretch your muscles, give a great cardiovascular workout or help with relaxation. It is a popular form of exercise as it is gentle on the joints, the water is warm and there is less chance of flaring up old or current injuries.
Prior to commencing hydrotherapy you will go through a thorough assessment to diagnose your problems and check your medical history. This ensures that you are safe to exercise in the water and that this is the optimal treatment for your condition. A hydrotherapy program specific to your needs is then prepared based on the findings of the assessment.
All sessions are conducted by qualified Physiotherapists who will be in the pool with you. Group sizes are a maximum of 4 people making sure that each person carries out the exercises correctly.

How Can Hydrotherapy Help Me?
The water works to assist mobility and provide safe cushioning for stressed or fragile bones and muscles. Water provides resistance, which the patient can work against for strengthening and conditioning. It also provides buoyancy, which permits the patient to float and relax helping to reduce back, neck and joint pain.
Hydrotherapy is beneficial for a wide range of conditions including:

• Joint replacements and tendon repair
• Back, neck and joint pain
• Rehabilitation after fractures
• Whiplash
• Arthritis (osteo and rheumatoid)
• Sports injuries and tendinopathy
• Work and accident related injuries
• Fibromyalgia
• Decreased mobility
• Cardiac reconditioning + Others