Articles
Clinical Pilates in Physiotherapy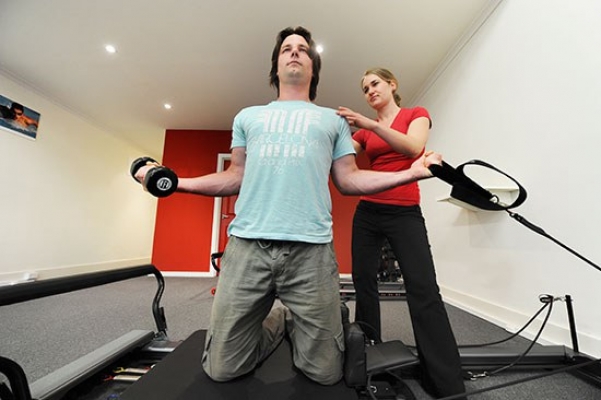 Clinical Pilates
by Margarita Gurevich
Senior Physiotherapist

In order to reach a really long term effect electrotherapy used in isolation is sometimes not enough and Clinical Pilates is utilized to make sure that the treatment effect is maintained. Clinical Pilates is very effective for treating pathologies of the musculoskeletal system; improving balance and coordination; improving the functioning of the cardiorespiratory system as well as improving muscle tone and strength and overall body shape. It is essential, however, that all sessions are conducted by experienced physiotherapists.
Before commencing Clinical Pilates sessions it is important to undergo a full body diagnostic assessment which helps to diagnose the cause of any existing problem as well as screen for other issues which may be present before they become manifest. This assessment is one hour in duration and includes a thorough examination of muscle strength, range of motion of the spine and joints, ligament integrity, the functioning of the cardiovascular and respiratory systems as well as weight parameters. Your Clinical Pilates program must then address the issues identified during the assessment and has to be tailored to your individual needs. For instance pregnant women, elderly people and children have very different needs and their programs need to reflect this.
These programs, as well as other programs aimed at the prevention of various health problems, weight management programs and other physiotherapy treatment methods will be discussed in another article.